May 2018: VIV Europe 2018 Utrecht
May 2014: VIV Europe 2014 Utrecht
People from over 100 countries were welcomed with great live violin music while one was led to the registration through an avenue with fragrant tulips Unique and very Dutch.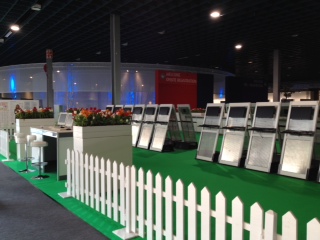 May 2011
New registration-services at VIV Asia 2011
In March the Marvel-team packed their bags for a trip to Bangkok for VIV Asia 2011, organized by VNU Exhibitions Europe i.c.w. their local partner NCC Exhibition Organizer. It was the second time we registered this international trade show for innovative stockfarming, the most renowned in his specialism. On-site, we worked with a team of no less then 90 Thai hostesses!
This edition we introduced preregistration for groups. We hit bulls eye. For a lot of international travel agencies who offer organized group travels, this made the process of registration a lot easier. Exhibitors also had the opportunity to register their groups of business relations.
Another novelty at this edition were the self registration-units where the visitors, with assistance of the hostesses, could register easily and quickly. This proved to be a huge success on multiple levels: not only did it lead to a significant improvement of registration data, it also shortened the waiting time for registration. A great added value for the visitors!
Viv Asia 2011 was an exhibition full of new records: there was a growth of more than 50% in preregistrations, there were 28.978 visitors (+ 39% compared to 2009), and of which 56% are international visitors. Furthermore, there was a top rating from exhibitors (8.1) and visitors (8.4). We are proud to have been a part of this amazing project.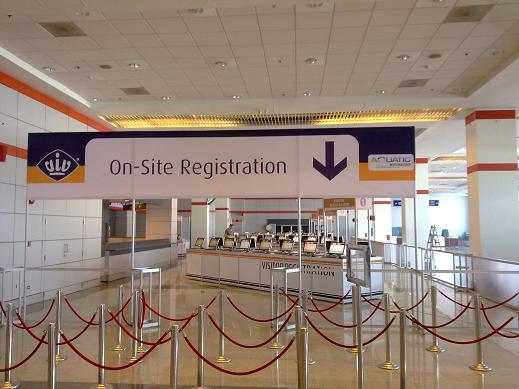 A Festive TeleVisie 2011
Homeboxx Nieuwegein was home to the 15th edition of TeleVisie 2011, the most important trade show in the field of telecommunication in The Netherlands. A place where everyone from the telephone industry comes together to experience and witness the latest trends in mobile communication. Since 2002 Marvel signs up for the registration of this show.
The first day turned out to be quite the party with a performance of none other than Ben Saunders, and lots of other festivities for the visitors.
With an increase of the number of visitors, it was a very successful jubilee.
The First Look at the Elicium
After a period of absence, we were happy to be back again in the Amsterdam Rai, at the Elicium! The Rai Elicium provided the perfect stage for the international trade show The First Look, where a preview is given of the latest season of bridal wear. A drink at the beach for both exhibitors and visitors and a nice little treat for Mothersday contributed to a fantastic bridalwear weekend. It was a pleasure to have worked on this event!
Registration for payed conferences
During Zorg & ICT Marvel provided the registration of participants for the DSSH conference. We did the same for the Greenbuild Conference during the International Bouwbeurs. We designed an online payment module for these conferences. We added the option to register a colleague and/or a group during the same registration session. The individual registration stays open until the registrant goes to the payment module. After the payment has been completed, the registrant receives his final confirmation of participation. The participants showed their great appreciation for our system.
High Speed Printers
Recently, we introduced our new badge printers. Not only are these small and lightweight, they also have a better print speed. This enables us to optimize the flow of visitors at the registration. Actually they should be named: Sprinters, an ideal collaboration between our quick 'S'ysteem and the 'printer'.....!
GePeBe outsources their administration to Marvel
For the annual GePeBe, a show for suppliers of food and nonfood products for the compilers of Christmas and gift packages, we have been doing the registration for years. Now we are expanding our services. From now on, all administrative functions, such as handling placed orders, purchase- and sales correspondence and all invoicing, will be done by Marvel. We also provide telephonic assistance for all subjects regarding the exhibition
Marvel scanners at VMWare Forum 2011
VMWare, worldwide market leader in the field of virtualisation and cloud-infrastructure, and its partners organize presentations and information sessions for their clients at the corporate event VMWare Forum. Providing information to participants about IT-infrastructure and cloud computing were the keytopics at the event. To ensure smooth registration of participants and presentation session, we used our Marvel scanners.
Marvel Badge-on-Demand for smaller projects and events
Due to our frequent requests from organizers of smaller projects and events, who do not need a full registration system, we recently developed an application to easily design and print badges. Even though the system is simple, it provides us with a lot of possibilities. The badges can be printed quickly in black and white or full-color. There is little product-waste due to the pre-punched paper. The badges also have room to print the program on. The badges can be printed on forehand or be produced on-site. This innovation will simplify the registration process and will contribute to a professional appearance of the event.
August 2010
Introduction Marvel Databadge Reader at Modatex

Exhibitors at the Modatex Fashion Fair in Essen (Germany) used for the first time our Databadge Reader on their booth. They discovered a very usefull tool to collect fast and efficient visitor data.
Selfregistration a succes!

We introduced our new selfreg system in autumn 2009. Visitors mentioned the system easy and userfriendly. Also our show organisers like the Marvel Selfregistration system.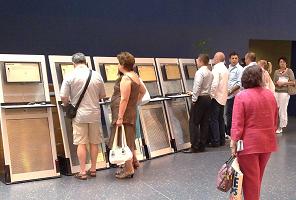 Back to Bangkok for VIV Asia - March 9-11 2011 - BITEC, Bangkok, Thailand

In 2009 we took care of the registration for VIV Asia for the first time. Again, in 2011, we'll go to BITEC in Bangkok. With 20.000 visitors from 93 countries, VIV Asia is not only the largest but also the world's most promising meeting point for professionals in animal production and processing from Feed to Meet.
Powerful quartet: The Industrial Week of 2010

From 5 to 8 October 2010 during The Industrial Week in Jaarbeurs Utrecht, four leading trade shows for the industry take place (Industry & Automation, Aandrijftechniek, Industrial Processing en Macropak). The entire industry under just one roof!

To Brussels for Elektrotechniek Belgium

Elektrotechniek Belgium is the sister of the successful Dutch concept and we are pleased to service this new show.

Together we Build! Utrecht 7-12 Februari 2011

This international fair, held every two years, provides a platform for over
1,000 exhibitors
and
100,000 trade visitors
. At the same time we register also Material Xperienxce and Bouw & ICT at Jaarbeurs Utrecht.
NEW IN 2010
3-in-1 in Ahoy Rotterdam: Facade, Light & Architecture in Greenbuild 2010 - 27 to 29 Januari 2010

In Rotterdam, Marvel registers this top trio of trade fairs for, among others, architects, designers, advisors, contractors and fitters who are able to find a complete platform for everything offered within their sector. Experience, design, sustainable and energy-saving construction; everything is available.
GéPéBé 2010 - 2 to 4 March 2010 - Autotron Rosmalen

The only real corporate gifts exhibition in the Netherlands is registered by us! The organisers of this successful exhibition, where many suppliers of food and non-food present themselves, is in the hands of the WGDP u.a. association.
VIV Europe 2010 - 20 to 22 April 2010 - Jaarbeurs Utrecht

Following our 'first VIV', VIV Asia 2009 in Bangkok, we can proudly announce that we will also be registering VIV Europe in 2010. Now a lot closer to home, in the Dutch Jaarbeurs Utrecht, but with visitors from all corners of the world - and no fewer than 125 countries. A wonderful international challenge which suits us perfectly!
SUCCESSES IN 2009
Going ahead with Ocean Media Europe
For Ocean Media, we registered, one right after the other, the bridal fashion trade fair Sposatex Fashion Fair (Houten, 7 to 9 June), Slubnatex Fashion Fair (Warsaw, Poland, 14 to 16 June) and Modatex Fashion Fair (Essen, Germany, 4 to 7 July). From 1 to 3 July we registered the first edition of '5 elements.berlin' - the top fair for lingerie, bath and sports mode in the fashion hotspot of Berlin. From this year registration of visitors for the German fairs will be mandatory. The fair organisers want to give the exhibitors a complete picture of the visitors. From now on all Ocean Media fairs are registered: by Marvel!
NEW IN 2009
Paper & Convenience Show 2009 - 4 to 6 Otober 2009 - Autotron Rosmalen, the Netherlands

The Paper & Convenience Show is a brand new trade fair concept for book traders, office suppliers, tobacconists, hobby shops, souvenir shops and the better gift and children's shops. It is no surprise that we are happy to enter this innovative event!
VSK Belgium 2009 - 19 to 21 November 2009 - Tour & Taxis, Brussels, Belgium

The first edition of this Belgian trade fair for heating, sanitary equipment, climate control and cryogenics is specifically targeted towards the fitters sector. VSK België is the sister of the successful Dutch concept, all of whose various concepts are registered by us.
Geo-Info Xhange 2009 - 2 and 3 December 2009 - Jaarbeurs Utrecht, the Netherlands

Geo-Info Xchange is the one and only platform for geo-products, applications and services in the Netherlands and is the trendsetting event for everyone who is professionally active in the geo-market. The GIN Congres takes place at the same time as the exhibition. The exhibition is aimed at engineers, surveyors and professionals in the commercial geo-information industry.